Learn How You Can Undo or Delete Reconciliation in QuickBooks Software
There is no doubt that QuickBooks is one of the best accounting software available in the world. Today, right from big organizations to small businesses, everybody depends on this new age application which has changed the way accounting and bookkeeping is done. Not only does application has some amazing features but also its support is available. Since QuickBooks is a software, at times users do face technical error but these can be resolved. Tutorials are easily available on the internet or users can seek assistance from the QuickBooks Support services.
In this article we will discuss how to undo or delete a reconciliation in QuickBooks. In QuickBooks Desktop users can undo past reconciliation in one step. And if they have used QuickBooks Online bank reconciliation then they must unreconcile each transaction separately through a register. If The QB Balance sheet doesn't match with your bank statement or a monthly reconciliation. It is very important to reconcile your QuickBooks transaction before you resolve any error.
Some Possible factors to Undo Bank Reconciliation:
The payment was recorded for an inaccurate date.
A transaction was appropriately checked off and discovered that had not cleared yet.
The bank reconciliation was forced and now require to be corrected in a proper method.
The bank statement date was incorrect or not a actual day.
Follow the below steps to undo or delete a reconciliation of an account
Below are the following steps to undo or delete a reconciliation of an account
The first thing to do is go to Banking in the left menu.
After this select Banking on the top
Now choose the Account at the top.
After this above the Action column select Go to Register/Account History
Now search for the transaction that you require to reconcile but one at a time.
Then highlight tab on the transaction.
After this tap on the R which is on the top line of the transaction which is situated between the Amount and Deposit or charge and payment amount.
By clicking in this field will allow you to change the status of the transaction to the desired status from Blank=unreconciled to C=Cleared
Now click on Save.
A pop up will display as the image you are showing in below: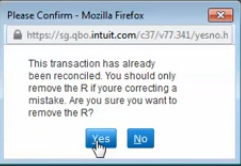 you have to click on Yes.
Also Read: How to Setup Intuit Go Payment?
Steps to Undo Bank Reconciliation In QuickBooks Online Accountant Version( QBOA)
First of all, you require to click on the "Gear" icon.
After that click on the "Reconcile" under tools.
Once more, you need to select the bank account that you want to "Undo reconciliation".
Now, just keep your mouse over the reconciliation month you want to undo.
Throughout that time you will notice an UNDO button to the right of the auto Change column.
After that simply click on the UNDO button.
After that the following message will show up on your computer screen: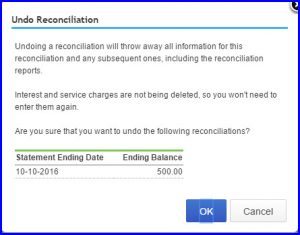 You need to click on OK button here.
Now you will see the success display with the following message.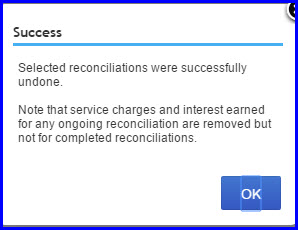 Finally Click on OK button.
You may also like: How to Fix QuickBooks Error 1920?
In QuickBooks Online
The QuickBooks Online reconciles the transactions separately and that's why you have to reconcile one at a time.
In the start you need to select Registers from the Banking Menu and after that choose the Account from the Register Name drop down menu.
After this you have to tap on the transaction that you want to reconcile and then delete R at the top of the transaction in order to modify its rank to the unreconciled.
In case you want to reconcile each part of the transactions for a period of time then it may help to print a list of the reconciled transactions by using the reconcile alternative from the banking menu.
In QuickBooks Desktop Versions
If you have QuickBooks Desktop version like QuickBooks Pro or QuickBooks Premier, then you can unreconciled a complete reconciliation by tapping on Reconcile Now from the Banking screen and then choose Undo Last Reconciliation. But before do it you have to click on Locate Discrepancies so as to produce a list of discrepancies to find the mistake.
Winding Up
If you are still unable to Undo or Delete Reconciliation in QuickBooks then you should seek assistance from the QuickBooks Payroll Customer Service experts. They will in no time help you with the whole process. You can call us at 1-844-405-0907 in case you are facing any issue i your QuickBooks Desktop.
You May Also Like
How to Set Up a New Company File in QuickBooks
How to Integrate PayPal with QuickBooks Online?